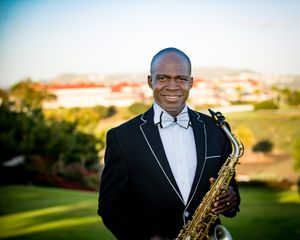 Vaughh Fahie (pronounced Foy) devotes his time, energy and talents to providing a pleasurable musical experience delivering eloquent sounds for top-notch events as an ambient jazz saxophone soloist or accompanied by his accomplished band.
Beginning his music career at age 8,  Vaughn played songs by ear on the accordion and keyboard while also arranging his own music.  Throughout high school, he perfected his piano skills and was then introduced to the clarinet and alto saxophone.  He also played frequently the Hammon B3 organ as a teen in his church.
Vaughn graduated from Riverside Community College with an Associates Degree in Mathematics.  Following RCC, he received his Bachelor of Arts in Music Business from Cal Poly Pomona University.  Vaughn routinely participated in campus activities with the marching band drumline as the bass line captain at RCC and also worked at the Cal Poly Pomona Student Union.
With more than twelve years of event planning experience, Vaughn posses a keen sensitivity to how music should compliment and assist in the success of any event.
Vaughn currently resides in Southern California with his beautiful wife RaShawna and their talented son Jordan Douglas,  He is actively involved in the church music ministry showcasing his gifts as a producer, engineer and musician.
In celebration of Lisa, the owner of an upscale antique store in Orange County, her husband JT hired Vaughn Fahie (pronounced Foy) Jazz to provide the music for his wife's surprise birthday party. Guests gathered in the back parking lot in preparation for their surprise entrance. As Vaughn parked, they began to cheer and share with other guests how beautifully he played at Lisa's Christmas party a week before. Seamlessly occurring according to plan, Vaughn entered through the front door playing "Happy Birthday" on his alto sax as JT followed behind him.  Lisa was astonished and elated to hear the melodious sound she recognized from her Christmas party. She embraced her husband; her head rested over his shoulder in sincere appreciation. As the couple hugged, the train of party guests entered from the back of the store to surprise Lisa from behind. Vaughn then set up in the back of the store to provide ambient jazz for the remainder of the evening. Guests continued to rave about how Vaughn had once again "made the party."  
 
The birthday surprise serves to paint a picture that words alone cannot adequately express.  Vaughn Fahie Jazz is an experience, one that captivates the soul, enthralls the mind and uplifts the heart. It is the intangible element of music that brings the elegant touch to your event. With twelve years of event planning experience and over twenty years of musicianship, he understands the impact of music necessary to make an event successful.
 
While table cloths, centerpieces, lighting, and room décor are all essential, none of these tangible elements reach the soul. Music, however, is intangible—embracing the elements that cannot be seen but felt. Vaughn's musical presence permeates the atmosphere like the pleasant fragrance of a lit candle, a diffusion of truthfulness and sophistication. It is his authenticity that distinguishes this experience from recorded music. Live music sets the mood for the environment, massaging the seat of emotions, encouraging social interaction and eliciting joy. Because Vaughn can play by ear, he strives to customize the experience by playing what his patron desires to hear. Often asked what his favorite song to play is, he replies with a genuine grin, "the one that makes you smile." He consults with his patrons as he seeks to mold his repertoire to the time frame and purpose of the social gathering, whether this gathering be a party of one or many.
 
There is no function too big or too small. Vaughn hopes his musical expression creates a communion between him and his listeners—fostering a network of enthusiasts and friends. His heartfelt and welcoming personality exudes a positive aura. You will be enchanted by his musical genius, dazzled by his refinement. The Vaughn Fahie Jazz experience is truly sublime. He looks forward to gracing your event, producing music guaranteed to sound divine.
Just a few notes, and your event will never be the same…